St. Matrona of Moscow. The Life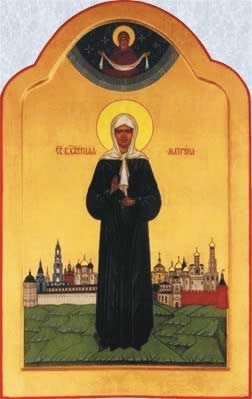 Blissful Matrona (Matrona Dimitrievna Nikonova) was born in 1881 in the village Sebino of Epifansky district (nowadays Kimovsky area) of the Tula province. This village is located in about twenty kilometers from the famous Kulikovo field. Her parents – Dimitry and Natalia, the peasants – were pious people, they worked hard but lived in poverty. In their family there were four children: two brothers – Ivan and Michael, and two sisters – Maria and Matrona. Matrona was the youngest. When she was born, her parents were already elderly.
Because the Nikonovs were very poor, the fourth child was considered first of all as an extra mouth. Therefore even before the birth of the child the mother has decided to get rid of it. There could not be any speech about abortion in a patriarchal peasant family. But there was a number of shelters where illegitimate and poor children grew up on public expense or on the means of philanthropists.
Matrona's mother decided to give the future child to the shelter of prince Golitsin in the nearby village Buchalki, but she got a prophetic dream. The not yet born daughter came to Natalia in her dream as a white bird with a human face and closed eyes. The bird sat down on Natalia's right hand. Having accepted the dream as a special sign, the God-fearing woman gave up her thought of giving the child to the shelter. The daughter was born blind, but the mother loved her unfortunate child.
The Scriptus testifies that Omniscient God sometimes chooses votaries for Himself even before their birth. So, the Lord speaks to sacred prophet Jeremiah: "Before rather than I have formed you in a belly, I have learned you, and before rather than you left a womb, I have consecrated you" (Ier. 1,5). The Lord selected Matrona for special service and from the very beginning assigned to her a heavy burden which she bore with humility and patience all her life.
At her christening the girl was called Matrona in honor of Saint Matrona of Constantinople, the Greek ascetic of the 5th century whose memory day is celebrated on November, 9th (22).
To confirm that the girl was chosen by God spoke the fact that during christening when the priest lowered the child in a font, all the present saw a column of a fragrant light smoke over the baby. The relative of blissful Matrona – Pavel Ivanovich Prokhorov who was present at the christening told about it. The priest, father Vasily whom parishioners esteemed as a righteous and blissful man, was extremely surprised: "I christened much, but I see something like that for the first time, and this baby will be holy."
People told also about an external, corporal sign that confirmed the fact that the baby was chosen by God – on the girl's breast there was a cross-shaped camber, not man-made cross. Later, when she was already six years old one day her mother began to abuse her: "Why did you take off the cross from your neck?" – "Mummy, I have my own cross on my breast", – answered the girl. "My lovely daughter, – Natalia came to her senses, – forgive me! Why am I abusing you…"
Natalia's friend told later that when Matrona was a baby, her mother complained: "What should I do? The maid doesn't take a breast on Wednesdays and Fridays, sleeps the whole days. It is impossible to wake her up ".
Matrona was not simply blind, she did not have eyes at all. The eye hollows were covered with densely closed eyelids, the same way as the white bird that her mother saw in the dream. But the Lord had given her the spiritual sight. Even when she was a baby at nights when the parents slept, she made the way to the sacred corner, by some incomprehensible manner removed the icons from the shelf, put them on a table and in the silence of the night played with them.
The children often teased Matronushka, even scoffed at her: girls quilted with nettle, knowing that she won't see, who exactly offended her. They put her in a dig and observed with curiosity, how she was finding her way out of it and went home. Therefore she ceased to play with children very early and almost always was at home.
From seven – eight years old Matronushka got the gift of prediction and healing of ill people.
The house of the Nikonovs was close to the church of Assumption of Virgin Mary. The temple was beautiful, one for seven-eight neighboring villages. The parents of Matrona were known as sincerely pious people, they liked to attend church services together. Matronushka literally grew up in the temple, she went to the services first with her mother, then always when she could. When her mother did not know where the daughter was, she usually found her in the church. The girl had her own favorite place – to the left, behind an entrance door, by the western wall where she stood immovable during the service. She knew very well the church chanting and often sang with choristers. It seems that already from her childhood Matrona has gained the gift of an incessant prayer.
When her mother, feeling sorry for her, told Matronushka: "You are my miserable child !" – the girl was surprised: "Am I miserable? You have Vanja miserable and Misha". She understood that she was granted by God much more, than the others.
Matrona got from God the gift of a spiritual thinking, insight, creation of wonders and healing from her early years. People started noticing that she knew not only human sins, crimes, but also thoughts. She felt approach of danger, foresaw catastrophes and social disasters. Upon her prayers people received healing from their illnesses and consolation in grieves. People started visiting her. To the Nikonov's house came people, rode carts with patients from neighboring villages, from the whole district, from the other districts and even provinces. Even bed patients were brought whom the girl cured. Out of gratitude to Matrona, they left products and gifts to her parents. So instead of becoming a burden for her family the girl became the main breadwinner.
Matrona's parents liked to go to the church together. Once on a holiday Matrona's mother got dressed and called her husband. But he refused to go with her. He said the prayers and sang chants at home. Matrona was also home. And her mother, while being in the church, thought all the time of her husband: "So, he did not come". And she worried. The liturgy ended, Natalia came home, and Matrona said her: "You, mum, was not in the church". – "Why? I have just come and now I am undressing!" But the girl noticed: "Well, the father was in the temple, but you was not there". With her spiritual sight she got that her mother was in the temple only physically.
Once Matrona said to her mother: "Mum, get prepared, soon there will be my wedding". The mother told it to the priest, who came and gave communion to the girl (he always gave her communion at home when she wanted). After a few days suddenly a great number of vehicles approached the house of the Nikonovs, many people came with their troubles and sorrows, patients were brought, and everybody asked for Matronushka. She said prayers over them and cured many people. The mother asked her: "Matrjushenka, what is this?" And she answered: "I told you that there will be a wedding".
Ksenia Sifarova, the relative of the brother of blissful Matrona, told, that once Matrona had told her mother: "I will go now, and tomorrow there will be a fire, but your house won't burn down". And really, the next morning the fire started, almost the whole village was burned down, then the wind changed and the house of her mother remained impact.
In adolescence she got possibility to travel. The daughter of a local landowner, pious and kind maiden Lydia Jankova, took Matrona with her in pilgrimage to Kievo-Pecherskaya Lavra in Kiev, to Troitse-Sergieva Lavra in St. Petersburg and to the other cities and holy places of Russia. There is a legend about a meeting of Matronushka and sacred Johan Kronshtadtsky. According to the legend when a church service in the Andreevsky cathedral in Kronstadt was over he asked people to make the road for the 14-year-old Matrona who went to solea and then he said: "Matronushka, come, come to me. Here comes my change – the eighth pillar of Russia". Matrona never explained the meaning of these words to anybody, but the folks realized that father Johan foresaw her special meaning for Russia and for the Russian people at the time of persecution of the Church.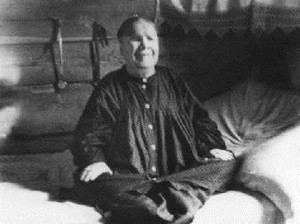 Not much time passed. When Matrona was seventeen she lost ability to walk: her legs were suddenly paralyzed. Matronushka specified a spiritual reason of illness. She walked in a temple after communion and knew that a woman would approach her who would take away her ability to walk. And that was how it happened. "I didn't avoid it, it was the will of God". So till the end of her days she was "sedentary".
In 1925 Matrona left to Moscow that became a place of her sincere service and pious death. Pursued by atheists, Matrona was forced constantly to change places of living, but she always found a shelter in the houses of Christians. The great number of people came to Matrona, looking for spiritual and prayer help, for admonition.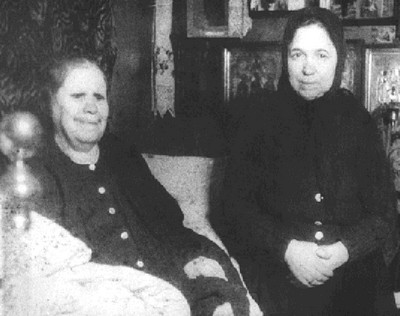 "Mother Matrona had all her life struggled for each soul coming to her, – Zynaida Zhdanova remembers, — and she always succeeded. She never complained. The lights glimmered in her house before the icons, the love of Mother Matrona and her silence shrouded the souls. In the house there were sanctity, joy, peace, caring warmth.
How did those who knew Matronar remembered her? A woman with tiny, like children's, short hands and feet sitting with crossed legs on a bed or a chest. Fluffy hair were put apart in the middle. Eyelids were closed. Her face reflected her pure soul. She had a tender voice.
She consoled, comforted those who were ill, stroked them on the head, blessed them with the sign of the Holy cross, sometimes joked, sometimes convicted and edified. She was not strict, she was tolerant to human weaknesses, compassionate, warm, sympathizing and always joyful, she never complained about her illnesses and sufferings. Mother Matrona did not preach or taught. She gave concrete advices how to act in this or that situation, prayed and blessed. Those who suffered from physical and mental illnesses were cured upon her prayers. Her prophecies and predictions helped many people to avoid danger and destruction, to find a right way in difficult circumstances. Up to now people remember these wonderful events.
Before her death blissful Matrona predicted: "After my death not many people will come to my grave, only relatives. And when they also die, my grave will be almost forgotten, unless someone will occasionally come. But in many years people will learn about me and crowds will come asking for help in their sorrows, asking to pray for them to the Lord, and I will hear everyone and I will help everyone".
She did not allow to bring wreaths and plastic flowers on her funeral.
Till her last days she confessed and the coming priests gave her communion. Just as all the other usual people she was afraid of death and did not hide her fear from those who were near. Before her death the priest, father Dimitry came to confess her, she was very much worried, whether she has laid her hands correct. The priest asked: "Are you also afraid of death?" – "Yes".
She died in May,2, 1952.
After her death, a lot of people came to the tomb of blissful Matrona on the Danilovsky cemetery. Honoring of the died woman grew, miracles and healings happened there.
Upon the order of Patriarch of Moscow and all Russia Alexey blissful Matrona of Moscow (Nikonova Matron Dmitrievna. 1881 – 1952) was canonized as local saint on May, 2nd, 1999.
Now the holy remains of the blissful woman, honored by believers as sacred hallows, rest in the Saint-Pokrovsky nunnery in Moscow where never-ending stream of people goes asking for help exactly the same way as when she was alive.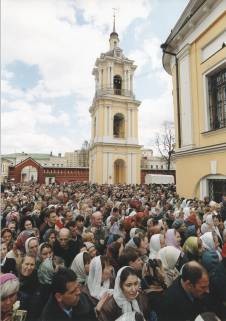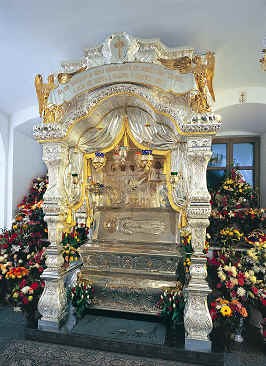 The shrine with remains of St. Matrona of Moscow in Saint-Pokrovsky nunnery
In October, 2004 by definition of the Consecrated Arhierejsky Council of the Russian Orthodox Church Saint blissful Matrona of Moscow has been ranked as a whole church saint and included in Mesjatseslov of the Russian Orthodox Church.
A memory day of Saint blissful Matrona of Moscow is on April, 19th (on May, 2nd new style).
The source of the information: the official site of Saint-Pokrovsky nunnery (Moscow)